IUIGA Group Buy – Buy Together, Save Together!
INTRODUCING GROUP BUY
IUIGA is always innovating to find new ways to meet the needs of our fans. This is why you often see us gathering feedback, or hosting focus group discussions just to hear more from you.
From our discussions with you, we heard your comments about the high shipping costs incurred with every purchase. We also realized that a lot of our fans are coming together and collating orders in order to hit the $88 minimum spending to reduce shipping costs. The success of our "Give $10, Get $10" referral program also highlighted the #goodthingsmustshare spirit in the IUIGA community.
This gave us the inspiration to introduce a new channel called Group Buy. Not only can you save on shipping fees, you also enjoy discounted prices of up to 90% when you share your purchase with your friends. With IUIGA's controlled profit margins, detractors may question how IUIGA can offer such extensive discounted prices with the Group Buy channel. Here's how: by tapping on the power of social network. With the help of social network and peer-to-peer review, we minimize IUIGA's marketing costs. This allows us to sell our products at even lower prices, without making a loss.
As the first brand to trudge into Group Buy for home and living products, we knew that the unchartered waters would be difficult to navigate. But we are firm on the mindset to stay true to what matters; and the belief that our fans are important to us will continue to push us forward to offer you products at the best prices.
What is IUIGA Group Buy?
Group Buy is a newly launched function on IUIGA, accessible only via the mobile site or the IUIGA app. IUIGA Group Buy offers merchandise at times 90% cheaper than original price by letting you buy directly from manufacturers, cutting out middlemen, advertising and acquisition costs.
What are the types of products available under Group Buy?
Our team at IUIGA has sourced for the finest quality everyday essentials made by manufacturers globally to be part of our Group Buy products. Customers will get to access up to 10 active deals daily. Each deal offers the best price, secured from manufacturers of international brands such as L'Oreal, Uchino, Audio-Technica and more.
Customers get to enjoy Group Buy products at up to 80% lower than regular retail prices.
HOW DOES GROUP BUY WORK?
Enjoy IUIGA Group Buy in three easy steps:
Step 1: Start The Group
Choose your preferred deal and start the group by placing an order first.
Step 2: Share The Group
Share the Group Buy link with your friends to complete the deal.
*Make sure orders are made via the shared link to complete the deal.
Step 3: Buy Together, Save Together!
Save with your friends when the Group Buy is successful within 24 hours or the remaining limited time period of the deal.
Click here to find out more about the Terms and Conditions of IUIGA Group Buy.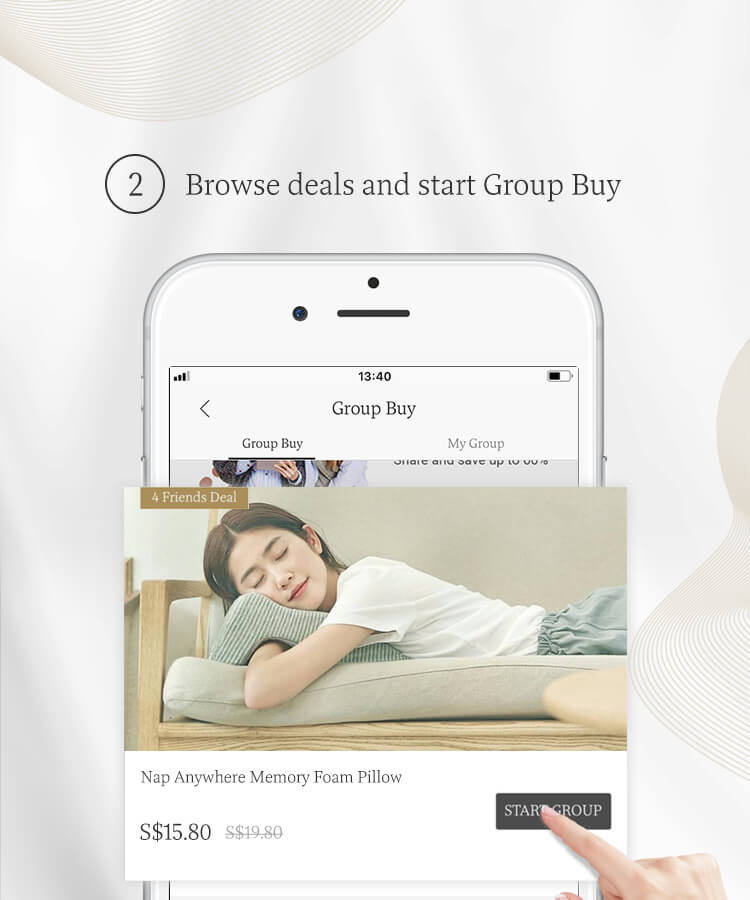 FREQUENTLY ASKED QUESTIONS
1. What does the price of a Group Price product include?
You will see two prices under each Group Buy listing. The "Buy It Alone" price is the original price of the item on our website or app. The "Group Buy Price" is the nett price of each Group Buy item. In order for you to enjoy the special Group Buy Price, all requirements for a successful Group Buy must be fulfilled.
2. Does the product price include delivery fees in Singapore?
No, the product price do not include delivery fees. You can self collect your Group Buy orders from our SingPost pop-up store, selecting this option would be free. If the Doorstep Delivery option is preferred, a fee top-up would be requested during checkout.
3. How do I make payment?
We accept VISA, MasterCard, UnionPay, AliPay, eNETS and Wechat Pay. If you have credits in your IUIGA account, you are able to use that as an option to pay for your purchase as well.
4. Is there a limit on the number of items one can purchase?
Depending on each individual product, there will be a limit on the quantity one can purchase per account. This is to ensure that everyone will get an equal chance to enjoy the deals.